Wednesday already.  It's also day five of no running and I must say that I've had enough of this little thing called "rest".  My leg is feeling a bit better and I am going to attempt a run tomorrow and see how it goes.  Cross your fingers for me!  Now before we get into the WIAW fun, let's talk a little bit of business.
1.  Last week I shared some fun promos/giveaways that were going on and there are two more that I want to tell you about.  Heather from Thought Blossoms is offering free shipping until August 22 with the code SUMMERSHIP.  I have a few of her pieces and love them.  I've got two of her active bracelets that I'm obsessed with and wear the "Just Run/YFGT (<- you've freaking got this)" one to all of my races.  The circle necklace you see in my sidebar picture is also from Thought Blossoms.  I guess you can say I kind of like Heather and the things she makes! 😉
2.  Mizuno Canada is giving away an Impermalite Performance Shell Jacket on their Facebook page.  All you have to do is comment on the photo of Michelle Clarke wearing the jacket for your chance to win.  Easy peasy.  I have one of the jackets and love it, especially for fall weather.
3.  SeaWheeze needs VOLUNTEERS.  My friend Alejandra is working in Vancouver right now busting her booty to organize this race.  They are looking for race marshals so if you want to be part of the fun, email me at theathletarian@gmail.com and I'll forward your info to the Lululemon peeps.
Okay now let's talk food aka WIAW.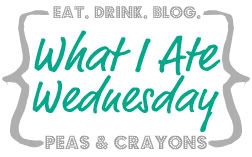 I said I was going to get back into food prep mode and treat my body a little better even though eating anything kind of makes me feel like I'm going to die these days, healthy or not.  Yesterday I started off with the Morning Glory Smoothie from the
OSG Cookbook
and it came out amazing.  Off to a good start, right?
Snack time came around and I've been loving the OSG Chia Power Muffins (which were supposed to be donuts but I don't have a donut pan yet).  I either eat them plain or with a smudge of Earth Balance.  They are dense, super tasty and keep me going until lunch time.
Now if you ever just make one thing from the OSG cookbook please let it be the Perfected Chickpea Salad (I know I'm mentioning this book a lot but I swear I'm not getting paid to do so, nor do I know Angela personally…I just really love her recipes).  Guys.  THIS RECIPE.  I can't even.  It is so flavourful and easy to make (does involve a bit of chopping though).  I made a huge batch on Sunday and it was already done by yesterday.  I was literally eating it by the spoonful every time I opened the fridge.  Put it on toasted pumpernickel and oh em gee.  Tastebud heaven.  A side of baked sweet potato fries always makes things extra delicious, yes?
Edited to add: the chickpea salad recipe calls for vegan mayo but I used hummus instead and it worked out great.  I also omitted the garlic (hummus had enough garlic flavour) and the dill (which was optional).
Okay so you see how healthy I was all day?  It kind of went downhill from the late afternoon onward but some days are just meant to go like this, right?  I went downtown to try out the infamous Bang Bang Ice Cream Bakery and oh my word.  If you are from Toronto you must stop everything you are doing and go right this instant because…
That you see there is cinnamon toast ice cream sandwiched between a peanut butter cookie.  They have so many different ice cream and cookie flavours which is kind of overwhelming but just gives you an excuse to eat more than one (not that I did that or anything…) or go back every day until you try them all.  The lineup is usually insane on weeknights or weekends but if you go in the middle of a weekday, you're good.  Now go.
I was supposed to go to a movie with my cousins at night but it didn't work out so we just stayed in and ordered a pizza instead.  I'm sure you all know what takeout pizza looks like so I'll spare your eyes from looking at yet another picture of pizza on here.
I'd say it was a good day.  A lot of morning nutrients, a lot of afternoon and evening fun.
Hope you have a great day!