I couldn't be more excited about this week's WIAW for two reasons: (1) I leave for Vancouver TOMORROW and (2) I get to celebrate the awesomeness that is about to go down this weekend with you guys by teaming up with Vega for a GIVEAWAY!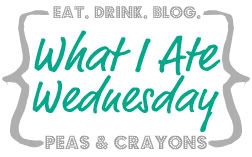 In this week's Marathon Monday post I talked about some
race tips
.  One of the biggest for me is #3 Keep your diet consistent.  This week has been pretty basic for me meal-wise so I don't have any fancy photos for you today.  A day of eating has been looking a little something like this:
Breakfast/post-run: smoothie
Lunch: chickpea salad sandwich + side of fruit or veggies
Dinner: maple balsamic tofu with quinoa + salad
Snacks: chips and salsa, spoonfuls of PB, handfuls of chocolate chips (don't judge)
With the race on Saturday, my snacks will probably be a little different over the next few days.  More fruit, less chocolate.  Boooooriiiiiing.  You gotta do what you gotta do.
ANYWAY…see how it says "smoothie" for breakfast??  Lately I've been making the best-tasting morning post-run recovery smoothie ever.  Like EVER, ever.  I've already shared it on Instagram so if you follow me on there then this is old news to you.
Vega Recovery Smoothie
Ingredients
1 frozen banana
1 cup frozen strawberries
1 scoop Vega Recovery Accelerator
1 cup coconut water (I use Zico)
Instructions
Place all ingredients in a high speed blender and blend until smooth.
You can use less coconut water to make it more like an ice cream/sorbet.  Smoothies are the besssssst when they are so thick that you need to use a spoon.  I get so excited to eat this after my runs that I don't even transfer it to a glass or bowl.  Less dishes to wash, right?! 😉
So we wanted to spread the Vega love (maybe you will try this smoothie for yourself??) and will be giving away the ultimate Vega Sport package!
One winner will the following:  Vega Sport Sugar-Free Energizer, Vega Sport Electrolyte Hydrator, Vega Sport Recovery Accelerator, Vega Sport Performance Protein.
How does THAT sound?!
To enter I was going to have you guys try and predict my race time but then I started to get nervous and thought it would put a lot of pressure on me if I started getting comments like "1:35!" so yeah…scrapped that idea.  INSTEAD, tell me your favourite Vega product in the comments section below or if you haven't tried Vega yet, tell me which product you'd be most interested to try!
Giveaway open to residents of the US and Canada. Winner will be chosen via random.org and announced nexw Wednesday, August 27th.  GOOD LUCK!