Happy WIAW!  Work is officially done for me (as of yesterday) and it's a pretty good feeling.  I've got about 2.5 months to take advantage of which will probably end up being spent running, eating, hanging with Princeton, and condo-hunting (<– time to get serious about that one).  Now that I'm home, I have more time to actually sit down comfortably to my meals which is always nice.  Yesterday was the first day in a loooooong time that I was actually home for breakfast, lunch and dinner.  So let's hop to it!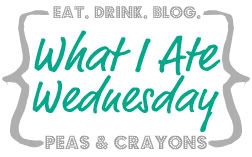 I'm pretty used to grazing on snack-y foods all day, both when I'm working (and when I'm not) but yesterday I wanted to try eating three bigger meals that were more filling and calorie dense and I kinda liked it.  I was full for longer, wasn't thinking about food all day, and was truly satisfied after each meal.
Breakfast:
1 cup brown rice/quinoa blend mixed with 1 tbsp chia seeds, 1tbsp maple syrup, and almond milk.  I had some rice and quinoa from food prep sitting in the fridge and decided to try using it for a sweet breakfast and I really liked it.  I heated it up in the microwave for a minute so it was nice and warm like a bowl of oats, then topped with banana, strawberries, and Justin's honey peanut butter.
Lunch:
Pretty basic and always a favourite – two slices of whole grain bread topped with avocado mash (avocado, lemon juice, salt, pepper, and chill flakes).  Cherries on the side because #CHERRYSEASON!!
Dinner:
Sweet potato fries, half an avocado, Mary's Crackers with hummus, and cherry tomatoes.  Something really funny happened during dinner time – there was a pretty bad rain storm here last night and just as my sweet potatoes were done, the power went out.  I had prepped all my food on my plate and then BAM!  Lights go out.  I was like "HOW AM I GOING TO TAKE A PICTURE OF MY DINNER?!" #bloggerproblems [power came back after about two minutes...]
Snack:
After my three meals I thought I was done for the day but my stomach thought differently.  I was in bed and it started to growl so I got up at about 11:15 and headed to the kitchen for a Vega Snack Bar.  Seemed to do the trick.
My food has been pretty basic and unexciting for the most part.  Everything is pretty plain and my diet is very high in carbohydrates because of my stomach.  "Dry" carbs like toast and potatoes seem to be best for me right now and (usually) keep the pain at bay.  I did go to the doctor yesterday though and am in the process of getting some testing done so hopefully I'll have answers soon.  I feel like I have a lot of anxiety when I eat these days because I don't know how the food is going to do to me.  This is not enjoyable.  Not one bit.  It makes going out to eat very stressful at times and I'm just itching to get some sense of normalcy back.  I want to order a pizza and not think about the side effects, you know?
ANYWAY, I hope you are having a great week so far!  See you tomorrow for Thinking Out Loud Thursday!
How many meals do you eat in a day?