My mom and I have kind of got a system down at night while we're here.  After dinner we spend a little time wither walking around, going to the casino, or checking out the entertainment.  Once we're back at our room, she reads for a while before bed and I either do the same or can pop in here to share little snippets of our day.  So I thought why not participate in WIAW and show you what's going down (…the hatch) here in Aruba!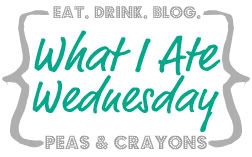 It's honestly a bit of a waste of money for my mom and I to stay at an all-inclusive resort.  With me being a vegetarian and the both of us being non-drinkers, we definitely don't get our money's worth.  I've been doing my best to try different things each day but have found fruits and veggies/salads to be the easiest.  On the first day I literally ate ALL the bad things.  Anything and everything that was deep fried at the buffet, I wanted it.  I went to bed that night feeling horrible (as expected) and it truly wasn't even worth it.  The french fries weren't even that great and I
looooove
french fries.  So yesterday I was a little better at actually ingesting some nutrients and whaddaya know?!  I felt good.  Surprise, surprise.
Breakfast and post-run I went with the most random combination of food.  I guess I was craving salt from the ridiculous sweating so pickles and seasoned potatoes did the trick.  The fruit here is pretty awesome so I've been trying to eat some with every meal.
I definitely didn't eat enough though because I was hungry within an hour and lunch doesn't start until 1:00pm here so I had to listen to my growling stomach for longer than I would have liked.
For lunch I hit up the salad bar and had romaine, tomatoes, jalepenos, olives, more pickles, radish, and carrots with oil and vinegar as my dressing and topped with pistachios.  I also tried a veg-friendly sandwich (cheese, lettuce, tomato, and sprouts) which was just okay.  Aaaaand more fruit!
My mom and I went for a walk in the afternoon and found a Starbucks.  Apparently there are only three on the island!!  I ordered an iced coffee with two pumps of sugar-free caramel syrup and a touch of soy milk.  Oh my word.  It was fantastic, and this is coming from a girl that drinks coffee about once a month (except around Thanksgiving and Christmas when Starbucks has their fancy lattes…then things get out of hand).
We made dinner reservations at one of the a-la-carte restaurants but the only seating times available are 6:30pm and 9:00pm so we chose the later time.  I was ravenous around 6:30 so I ordered room service….nachos, of course.
So good.
We went to the Italian restaurant for dinner and the only vegetarian option on the menu was a lasagna so I'll give you one guess as to what I ordered.  Yep.  You nailed it.  Problem is – I didn't even eat it because I filled up on pesto rice balls (aka 'arancini') and bruschetta from the appetizer bar.
As you can see, my eats haven't been too interesting and I doubt I will stray very far from the basics.  If you aren't picky, there are TONS of options.  Lots of meat, chicken and fresh fish throughout the day.  For breakfast there are eggs made in every possible way – even an omelette station where they make it nice and fresh, adding in whatever ingredients you like.  There's a cereal bar, yogurt, all kinds of cheese and deli meats.  You name it, they've got it.
Every night the buffet has a different theme so I'm hoping for something a little more exciting!
Hope you all had a great Wednesday!