Happy What I Ate Wednesday!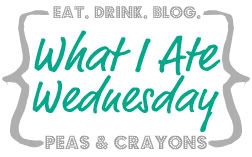 So remember how
last week's eats
were a bit of a bomb?  Well, turns out if you have good and healthy food handy, you will eat good and healthy food.  I guess you can say that weekly
food prep
kinda works…
This morning before I headed out for my track workout I ate two of Amanda's vegan pumpkin chocolate chip cookies with my Vega sugar-free energizer…
I did a 3.25-mile warm-up, 5 x 100 @ 1:41, 1:42, 1:43, 1:42, 1:41 (with 2:00 rest/walk in between each lap), and then finished with a 1.71-mile cool-down.  Not going to lie, it felt awesome.  Hard, but awesome.  I was starting to get tired of just going on mediocre runs so the challenge was great and I feel like I accomplished a more meaningful workout today.  Once I got in, I couldn't decide of I wanted something sweet or savoury to eat…so I had both.
One slice of toasted pumpernickel bread with chickpea salad (recipe from the Oh She Glows Cookbook).
Frozen banana, strawberries, pineapple, and coconut water.
Lunch time rolled around and I dug into my meal prep stash to make this warm kale salad:
Kale (with hummus/lemon juice dressing), roasted butternut squash, quinoa, and avocado.  Pretty sure I could eat this every day.  It was so good!
Before I knew it, it was DINNAH TIME! [horrible lighting...I apologize]
One of Lauren's magical burgers topped with mustard, avocado, and tomato on a whole wheat bun.
Snacks (not pictured): spoonfuls upon spoonfuls of Justin's Chocolate Hazelnut butter (I was able to find it here in Toronto at Summerhill Market!) and corn chips with salsa.  Not many days go by where I don't have chips and salsa.
There you have it!
I hope you had a great day full of delicious eats.  See you soon!