Happy WIAW, y'all!  Today I'm skipping the whole "look at my day of food" thing because yesterday was a write off.  I skipped breakfast and drank coconut water instead, ate tacos from Fresh in the car and spilled half all over my shirt (P.S. menu has been re-vamped and TACOS ARE HERE TO STAY!), and then the evening was spent snacking on weird things like cashews, a croissant, and crackers with hummus.  Let's not forget the handful of chocolate chips before bed.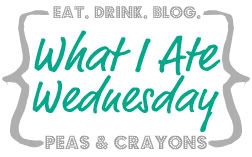 Today I'm going to share a recipe with you instead!  It's been a while, hasn't it?
just BEET it smoothie
Ingredients
1 small beet
1 cup frozen strawberries
½ an apple (chopped)
½ a banana
1tbsp chia seeds
juice of ½ a lemon
water (~1 cup)
Instructions
Place all ingredients in blender and blend on high until smooth.
Enjoy!
I went to Costco last night and found a container of beets that were already cooked and peeled so it made everything wayyyyyy easy.  I never put beets in my smoothies because I hate the process of prepping them and making the kitchen look like a murder scene!  Costco to the rescue…again.
Why beets?  I'll be honest – originally I just used to love what beets did to the colour of smoothies.  You get really cool shades of pink – Angela's Pink Power Detox Smoothie is BEAUTIFUL and next on my list to try.  Then I started to learn more about the health benefits of beets and how they help fight inflammation.  I've been trying to add more anti-inflammatory foods to my diet (especially post-workout) to help with my recovery so I'll be sneaking beets in when I can.  They do have an "earthy" flavour but you can't really taste it in a smoothie if you add sweet fruit to the mix!
THANK YOU SO MUCH for all of your comments, tweets, and emails regarding yesterday's post.  I feel so lucky and blessed.  I hope you all have a wonderful Wednesday!