Today I thought it might be a good idea to do my first WIAW.  I still don't know how I feel about it!  I want to eat my food as soon as it's ready and I really am not that great at photographing anything!  I don't really think people would be that curious about what I eat but hey, who knows!  I read everyone's WIAW so maybe they'll read mine too??  I don't really consider myself to be a food blogger (my food is relatively boring and super easy to make) but I hope you are still able to enjoy this post!
I think the first thing I'm supposed to do is credit Jenn from Peas and Crayons who makes her food look way more delicious than mine!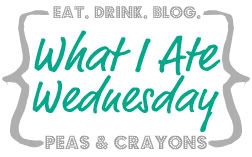 Thank you, Jenn!
I would just like to note that the tofu and cheddar sandwich that I had for lunch was so ridiculously good.  Meg introduced me to this amazing smoked tofu not too long ago and I've eaten it a few times since.  The combination of the smokiness and the sharp white cheddar cheese I used was out of this world.  Plus it was grilled to perfection.  YUM.
I had the Greek yogurt concoction post-workout and it hit the spot.  Grow, muscles, grow!
How do you feel about WIAW?  Should this be my first and last ever attempt?
What's the best thing you ate (yesterday or today)?  I know it's Thanksgiving for most of you so I'm pretty sure you've got some good eats hanging around!