…paper bags??
Remember how I said yesterday that my celebration food of choice would be a burrito?
#provedit
I had physio after work and it's pretty close to the best burrito joint in Toronto – Burrito Boyz – so I really had no choice, right?  Usually the lineups for this place are insane and you have to wait quite a bit for your burrito (they grill them to perfection) but since I was going in the midst of downtown rush hour, I had the place more or less all to myself.  Everyone else in the city was more concerned with getting home while I was on a mission to satisfy a burrito craving.  I'm okay with that.
Let's get on with today's WIAW.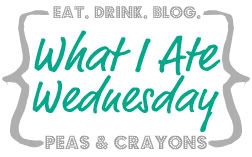 I'm just warning you – it's probably not even worth writing about because I was not great about eating today.  At all.
The morning started off great – two cups of frozen berries, one scoop of Vega Performance Protein in chocolate, and coconut milk.
When I got to work a teacher was selling Girl Guide cookies in the staff room so I bought a box to support him/his kid and legitimately ate the entire box.  I might have given maybe four or five away to a couple of students but the rest?  In my stomach.
They probably wouldn't have been my first choice for introducing sugar back into my life but whatever.  Still good.  I should have rationed them so they'd last a couple of days or something but I guess it's too late now.
On my lunch I went to pick up roti because I am obsessed with anything that comes in a brown paper bag these days (just like my burrito).
This roti place is amazing.  It's not even that close to my work but I call them while I'm driving and place my order so that when I get there I can just pick it up and eat it in the car on my way back to work.  It gets hella messy though.  Chickpeas and potatoes flying everywhere.
After work I had a dentist appointment.  I got my first filling EVER and I did not enjoy the experience one bit.  I also avoided telling the dentist that I ate a box of cookies today because he probably would not have been very happy about that.  Hah.
Came home, changed, went for a 6-mile run, showered, took Princeton for a walk, and then had one of those nights where dinner consisted of eating random things I found in the fridge while standing over the kitchen island.
I'm highly lacking in food inspiration for you guys today but I promise I will try a little harder next week!  It was just one of those days, ya know?
See you tomorrow for Thinking Out Loud Thursday!