Happy What I Ate Wednesday!  Work has been soooo slow lately which is kind of expected when school just starts but a part of me is kind of itching to get back into a solid work routine, ya know?  Once it happens I will probably be kicking myself but as of right now, that's where I'm at!  Anyway, I was home today so I got to photograph my meals for you.  I had people ask me to do a sample of what a sugar-free day looks like for me since I started my challenge just over a week ago.  Truthfully, my eats don't look much different now than they did before.  My diet was never heavy on sweet treats so there haven't been many changes…except maybe keeping my fingers out of the nutella jar at night.  I posted my one week update yesterday if you missed it but to sum it up: it's been going great and I haven't really had any cravings!  So why I don't I stop rambling and get on with today's eats…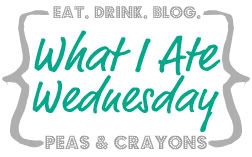 Breakfast:
1 cup frozen strawberries, 1 cup mixed berries, 1 scoop Vega Performance Protein in chocolate blended with a touch of coconut milk and topped with banana and more frozen berries
As you can see, I have not given up fruit.  I know it has sugar in it but my body does perfectly fine eating enormous amounts of fruit so it's here to stay.
Lunch: toasted pumpernickel with mashed avocado, Mary's crackers, hummus, and raspberries
I have had a bad bunch of avocados lately.  For a few weeks I was getting them in bulk from Costco but every time I went to slice (what felt like) a ripe one, it would be hard as a rock inside.  My cousin said the same thing happened to her.  I've had to throw out so many so I just stopped getting them from there.  It was so nice to cut one this afternoon and have it be absolutely PERFECT, inside and out.  I missed my avocado toast!
Snack: chia muffins (recipe from OSG cookbook) and Snap Pea Crisps
Dinner: pizzAAAAAAAAA!
I went out for dinner with the fam and I just had to.  I know I said I was over pizza just a couple of weeks ago but this was different.  It was real pizza.  Thin crust, wood fired, made with a whole lotta looooove pizza.  And it was delicious!  Toppings included tomato sauce, pesto, mozzarella, green olives, green peppers, and sun dried tomatoes.  I stole some of my mom's pasta too so I have a few leftover pizza slices for tomorrow's lunch! #score
I'd say I had a perfectly balanced day, hey?
See you tomorrow for Thinking Out Loud Thursday!